David Kreileman choose the EHRGEIZ BabyZoom 1 for Let`s Dance 2018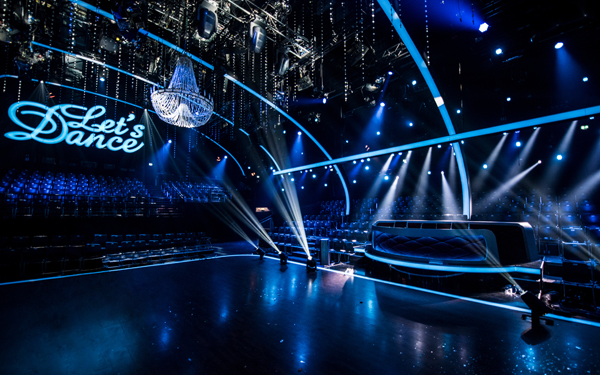 August 2018

During the 11th season of the famous dance show "Let's Dance" in Germany, 14 German celebrities got on the dancefloor with a professional dancer.
The lighting designer David Kreileman (dk Design) and his experienced team were responsible for the lighting design once again. The team is always looking out for new visual possibilities to pimp up the design of the show year by year. For the 2018 season, dk Design chose the BabyZoom 1 as spotlight for the judging area.
Creative operator, Udo Rath was impressed by the homogeneous colour mixing, the clear and accurate dimming as well as the extremely fast zoom.
"The BabyZoom 1 convinced me with its fabulous colour presentation, a really rich magenta is realizable without any problems, due to good sorted red- and blue Osram LED chips. Furthermore this EHRGEIZ product offers a brilliant white in RBGW mode without any trouble over the whole zoom range. The lense has an appealing look; the huge zoom range allows wonderful effects, which have a great look on the camera screen. The fast zoom allowed me to change the wide beam fast into a starlet's effects and vice versa."
Additionally David Kreileman explains:
"I believe we will use the BabyZoom 1 even more often in our further lighting designs because of its dimensions and the high output. It offers more space for variety and generates attractive looks"
Pictures: Christian Glatthor