EHRGEIZ Chroma illuminated ferris wheel "Wheel Of Vision" at capital city Duesseldorf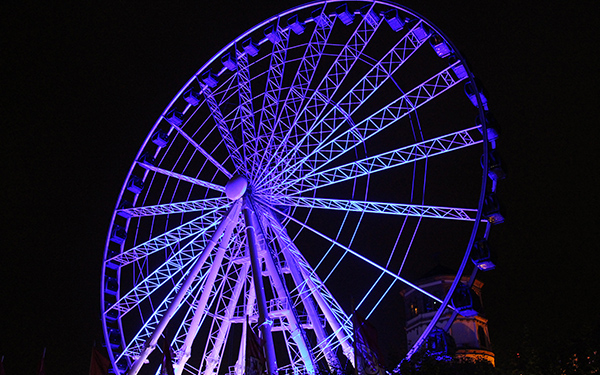 December 2015

Since 23th of October , visitors and residents of Duesseldorf had a unique and amazing view on the city. During the whole winter period, the giant ferris wheel " Wheel of Vision" was based on the Burgplatz in the capital city, close to the river Rhine.
With a height of 55m, offer the Wheel of Vision 42 gondelas with place for 8 person each. Similar to the low energy uptake of the whole system, the Chroma is the perfect solution for a long term installation over months. The energy – consumption of the complete system including 2 LED screens, 1000m LED stripes, 20 Chroma 15° angle and 20 Chroma 43°angle is round about 20kw, preferably from economic energy provider.
The Ehrgeiz Chroma 40 RGBW is a high class washlight with 40 pc of 15 W LEDs. Especially architectural applications benefit from an extraordinary homogenous colour mixture paired with an amazing strong light power. The extremely good processing and the possibility of changing lens plates shows the premium position in the market. The EventCON system offer a fast and flexible installation, even under rough condition with IP 67 VDE certification.
This installation would be realized with the rental equipment of the company Charlys checkpoint. The owner of the giant ferris wheel would invest now in Ehrgeiz Chroma LED washlights for all ferris wheels in his inventory.
www.charlys-checkpoint.de
Photos: Miriam Gludau