Finland 100 Opening Ceremony with EHRGEIZ Chroma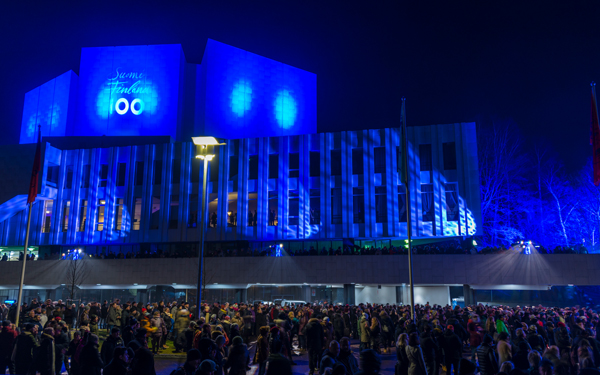 February 2017

2017 Finland celebrates its 100 years of independence. Over the whole year there will be many installations and presentations of famous Finnish artists.
The big opening ceremony of this event took place on New Year's Eve in Helsinki. Therefore the Finnish artist Kari Kola was illuminating buildings and parks in bright blue light. The light installations were spread over the whole city. For the light installation more than 100 EHRGEIZ Chroma 40 were used. The Chroma 40 RGBW is a modern LED wash light equipped with 40 RGBW LEDs and a power of 15 Watt per LED. The outdoor ability as well as the solid build make this fixture to your trusty partner for all outdoor applications.

Kar Kola added: "I choose the EHRGEIZ Chroma for various reasons. On one hand they have more than enough power for my large area applications and on the other hand they are perfectly processed. Even temperature differences between +10° C and -30° C are no real challenge for this fixture. I can totally be sure that the Chromas won't make any problems at any time."

Another EHRGEIZ product had its premier under such extreme conditions. 12 pieces of the brand new SuperNova RGBW with the unique pixel free optic were integrated in the installation. "These 12 pieces I had, convinced me completely. The light power is enormous and the homogenous color mixture is impressive. When 12 pieces are that effective – guess what you can do with 120 of them." Kari said with a smile.
www.karikola.com

Pictures: Rami Saarikorpi