Jennifer Rostock on tour with EHRGEIZ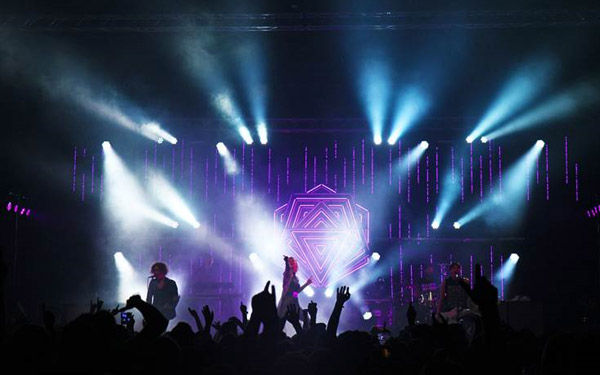 January 2015

The lighting designer of this power band rely on the new EHRGEIZ products at the Kaleidoskop-Tour and were quite enthusiastic.
Jennifer Rostock and front women Jennifer Weist are a German rock band with punk influences.
Since 2007 exists this formation and at latest since the participation in the German "Bundesvision Song Contest" in 2008 Jennifer Rostock are well known to a broad public.
At this point, the band skyrocketed and the latest album "Schlaflos" even made No. 2 of the German charts.

Furthermore Jennifer Rostock published a few weeks before their EP "Kaleidoskop", which was also name giver for the Tour.
After a tour in spring, Jennifer Rostock went back on the road in autumn in many mid-size halls of the republic.

This time in contrast to the first part of the tour, with several EHRGEIZ fixtures of the new LED series.
Stefan Kolbe and Benjamin Pütter created the lighting design and enjoyed the possibility to use the latest fixtures from EHRGEIZ.
At the recently concluded tour were fourteen Helios+ 19Z, sixteen Helios 7, fourteen BabyBeam 4 and four SuperNova in action.

All fixtures were totally convincing and conjure the designers a smile on their face. "The colors of the Helios devices and the BabyBeam 4 are just fantastic. This allows you to mix strong primary colors as well as beautiful pastel tones without any color shadows. Furthermore the light output has convinced", said Benjamin Pütter.

For these mentioned features they used the Helios+ 19Z with 15-Watts-RGBW-LEDs and the Helios 7 with seven LEDs of the same power class. "But with the Helios+ 19Z you can also create other fascinating effects. Thanks to the LED ring that forms a kind of frame for the moving head, the device can be used in a totally new way. By the help of the LED ring these lights can be used not only as a classic moving light with great beams, but also as an object itself", reported Benjamin Pütter.

Four SuperNova completed the EHRGEIZ setup. The high performance stroboscopes reach a light output of 80.000 Lumen with their 896 white light LEDs. "Besides the high light output especially the mounting options impressed me. The fixtures can be placed or hung in different angles", said the young lighting designer. What convinced him of all fixtures of EHRGEIZ is the absolutely fantastic price-performance ratio. He can recommend the Helios devices as well as the SuperNova without any doubts.