Lighting designer Kari Kola relies on EHRGEIZ CHROMA during "Istanbul Light Festival"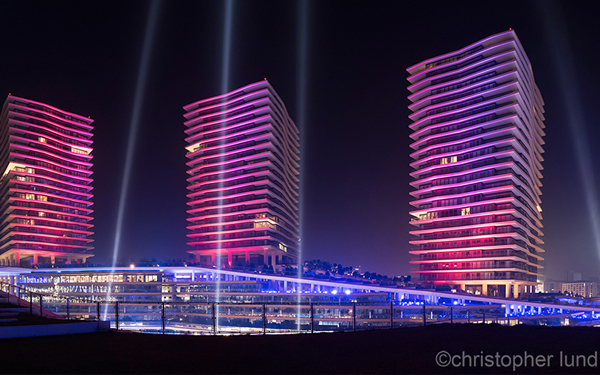 November 2015

From 13th to 29th November visitors to Istanbul can experience the 1st Istanbul Light Festival in the Turkish megacity.
The main attraction is the impressive light installation "Light is Here" by Finnish lighting designer Kari Kola. The 360° lighting spectacle with hundreds of lights paired with a combination of multichannel Soundscape compositions stages the gigantic Zorlu Center. A key part of the light installation are the CHROMA LED wash lights by EHRGEIZ.
The Zorlu center consists of four skyscrapers as well as the second largest shopping mall in Europe and contains furthermore a concert hall, a hotel, office and conference rooms as well as apartments. To illuminate the large building complex effectively, Kari Kola lighting designer and multimedia artist trusted among others 20 Ehrgeiz Chroma. "The saturation of the Chroma is really extraordinary and it seemed to be made perfectly for this task. In the future I will work more often with them – the next units are already ordered," says Kola. (For the lower parts of the building, 40x Varytec LED Typhoon Outdoor Par lights were used)
In the beginning of 2015, Kari Kola already impressed with his lighting installations when he illuminated the UNESCO headquarter in Paris. Kolas installations sometimes create associations of the famous Northern Lights which can be seen in clear nights in Finland.
www.karikola.com
Pictures: Christopher Lund